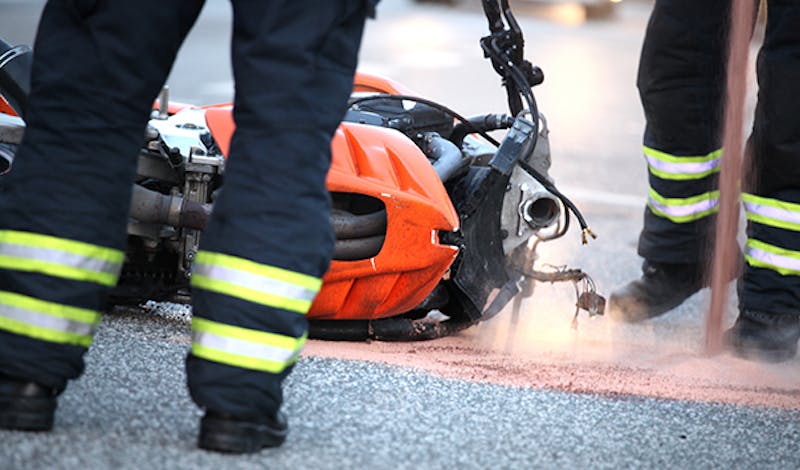 All drivers need to share the road with motorcyclists
Motorcycle accidents in Santa Clara County and other parts of California wreak havoc on the roads. Whether you're dealing with a rear-end motorcycle accident on I-280 or a high-speed crash on US 101, all it takes is one small mistake by a reckless driver to cause a serious injury.
This is why road safety officials are promoting motorcycle safety awareness this month. And it's not just motorcyclists that can use a reminder about how to stay safe on the road. Drivers need to understand why motorcycle accidents happen and what they can do to prevent them.
How common are motorcycle accidents?
Motorcycle accidents are a serious problem in California and across the nation. Frequently, crashes involving motorcycles result in serious injury or death. Each year in the U.S., more than 5,000 people die in motorcycle accidents, according to the National Highway Traffic Safety Administration (NHTSA).
In California, motorcycle accidents have been on the rise for the past decade. Fatalities due to motorcycle accidents in California have increased by 29.8 percent from 415 deaths in 2011 to 539 deaths in 2020, according to NHTSA statistics.
Who is responsible for most motorcycle accidents?
Motorcycle accidents happen for many different reasons. However, the most common causes are:
Aggressive drivers who don't "see" a motorcyclist and change lanes without warning.
Speeding drivers who don't leave enough space between their vehicles and motorcyclists.
Drivers who turn left at intersections without looking and cause head-on collisions.
Distracted drivers, including texting drivers, who fail to recognize they're sharing the road with motorcyclists.
Drivers under the influence of alcohol or drugs.
What can motorcyclists do to avoid an accident?
Most motorcycle accidents are caused by the reckless or negligent actions of a person in another vehicle, but there are steps motorcyclists can take to protect themselves, such as:
Before riding, check your motorcycle's lights, brakes, and tire air pressure.
Try to avoid riding in a driver's blind spot, especially on highways.
Ride responsibly and obey the rules of the road.
Proceed cautiously at intersections, a common location for motorcycle collisions.
Don't ride your motorcycle if you've been drinking alcohol.
Wear bright clothing so drivers can see you.
What can drivers do to avoid a motorcycle accident?
It's not just motorcyclists who need to do more to prevent accidents. Other drivers often cause collisions and need to be more aware when behind the wheel. Steps drivers can take to avoid causing a motorcycle accident include:
Look carefully for motorcyclists when changing lanes on a highway. Always be sure to triple-check your blind spots before you change lanes.
When turning at an intersection, look to see if there's a motorcyclist coming the other way.
Leave enough space between your vehicle and the motorcyclist in front of you. Motorcyclists often need to make quick corrections due to potholes and other roadway hazards.
Treat motorcyclists with respect and share the road with them.
What to do if you get hit while riding a motorcycle
Many times, drivers who cause motorcycle accidents blame the motorcyclist for causing the collision. That's why if you're involved in a motorcycle accident, there are certain things to consider:
Don't get into a debate with the other driver, especially at the scene of the accident. The less you say, the better. That's because anything you do say could be later used as evidence against you and harm your potential legal case (e.g., "I'm sorry," "I didn't see you," etc.).
If the at-fault driver's insurance company contacts you, don't talk to them without consulting a motorcycle accident lawyer first. Insurance adjusters often ask leading questions so they can twist what you say and use it to their benefit.
Contact a motorcycle accident attorney right away. No two cases are the same, so it's in your best interest to consult a lawyer as soon as possible. You should have a clear understanding of your legal rights and options when you've been injured in a crash that was not your fault.
Talk to a San Jose motorcycle accident lawyer today
The stakes are high after a motorcycle accident. Depending on the severity of your injuries, the length of your recovery, and whether you can return to work, your personal injury claim or lawsuit could be worth a significant amount of money. But to the insurance company, your losses represent nothing more than a threat to their bottom line. That's why you need someone in your corner to aggressively advocate for your best interests and fight for the compensation you're entitled to.
To see what The Swanson Law Group can do for you, set up a free case evaluation with an experienced San Jose motorcycle accident attorney. There are no obligations to hire, and everything you tell us will remain confidential. We also offer legal representation on a contingency fee basis, which means you pay nothing unless we win your case.
Contact us today to find out how we can help you.