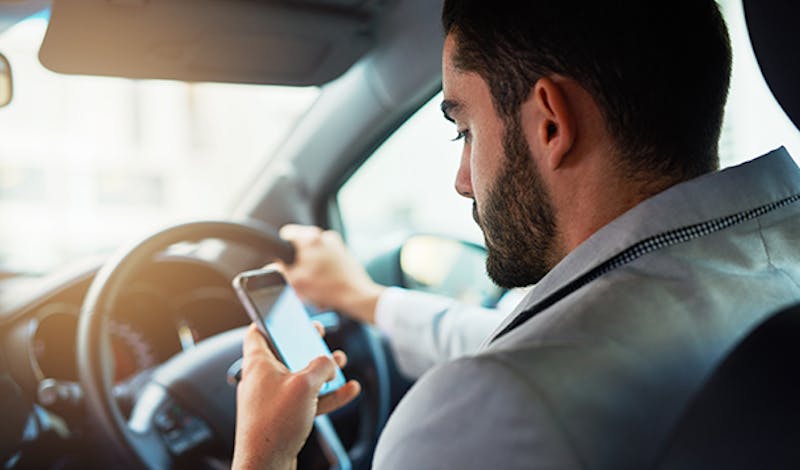 Distracted driving is reckless, and negligent motorists should be held accountable
Distracted driving is a problem on roads and highways throughout the nation and is characterized as any behavior that takes your focus away from the road. Motorists have a legal responsibility to avoid causing crashes that result in injury or death, but safe driving is impossible unless you're paying full attention to the task at hand. In an effort to help combat the problem, the National Safety Council (NSC) observes April as Distracted Driving Awareness Month. This month is all about a nationwide effort to raise awareness about the dangers of distracted driving.
The 3 types of distractions
On an average day, 8 people are killed and hundreds more are injured from car accidents caused by distracted drivers.
Traffic safety experts label distractions as manual, visual, and cognitive:
Manual distractions occur when the driver moves their hands off the wheel. For example, to reach for a cellphone, food, or drink. This is a problem because if you need to adjust your driving to avoid a collision, you may not be able to maneuver your vehicle properly without both hands on the wheel.
Visual distractions occur when the driver is unfocused and takes their eyes off the road. A common example of this is looking at a text, even if just for a moment. Keep in mind that on average, it takes you 5 seconds to read or send a text. And if you're going 55 mph while texting, it's the same as driving the entire length of a football field with your eyes shut.
Cognitive distractions occur when the driver's mind is not focused on driving. This can range from having strong emotions like anger or frustration to daydreaming, thinking about work, replaying a conversation in your head, talking with passengers, or having a phone conversation. While cognitive distractions aren't as well-known as manual and visual distractions, they can still be dangerous. Often, cognitive distractions result in slower reaction times and poor judgment by motorists since they're not focused on their driving.
How to prevent distracted driving
According to the CDC, distracted driving impacts thousands of drivers every year. Some tips from the CDC to help prevent distracted driving accidents include:
Use apps to avoid cellphone use when you're behind the wheel. There are also apps for reducing distractions. Things like eating, picking music, reading an e-mail, and adjusting your mirrors can all be done before or after your drive.
As a passenger, you can speak up if you see your driver is distracted. You can help them by assisting with tasks like directions and music changes.
If you are a parent, it is important to share the rules and responsibilities of driving with your teen or young adult. Set consequences and make your teen aware of your state's law. Set an example by avoiding distracted driving.
Distracted driving statistics
EndDistractedDriving is a campaign that is committed to reducing crashes caused by distracted driving. Some of the notable facts and statistics mentioned by the campaign include:
9 percent of all teens who died in car wrecks were killed due to distracted driving.
In crashes where a death occurred and the driver was distracted, the driver was more likely to be aged between 15 and 19 than aged 20 and older.
The fatal crash rate for teens is 3 times greater than for drivers over the age of 20.
Driver distraction is responsible for more than 58 percent of teen crashes.
About 1 of every 5 people killed from distracted driving in 2018 were walking, riding bikes, or outside of vehicles.
An estimated 27 percent of car crashes in 2015 had to do with cell phone use.
Legal help is available for distracted driving accident victims
If you or a loved one was injured in an accident caused by a distracted driver, you may be entitled to financial compensation. Negligent drivers need to be held responsible, but insurance companies care more about protecting profits than making crash victims whole again. That's why you need an experienced attorney who knows how to build a strong case and fight for the compensation you deserve.
The San Jose car accident lawyers at The Swanson Law Group know how to help. We'll stand by your side and guide you, every step of the way.
After a distracted driving accident, seek medical attention to diagnose and record your injuries. Then, talk to a lawyer as soon as possible so you can get a clear understanding of your legal rights and options. Find out how we can help you. Contact us today for a free consultation.